Conan's Academy was started in 1996 by Scott "Conan" Mincey, a four time World Kickboxing Champion.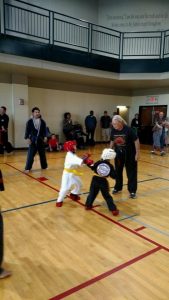 The Academy offers Boxing, Kickboxing, Jujitsu, MMA and Karate classes. Boxing or Kickboxing is an excellent full-body workout and provides increased agility, coordination, speed, endurance, confidence and fresh challenges. Our martial arts training benefits children, teens, and adults. We also have a weight lifting area and cardio area!
Conan's Academy has a very diverse membership, men, women and children from all ages attend.
About Scott "Conan" Mincey
Scott "Conan" Mincey is the owner and founder of Conan's Academy. He has created a workout system called "Mincey Combat System".
Experience
Been in martial arts 43 yrs
Owns Conan's Kickboxing, Karate, Boxing Academy for 20 yrs
Has developed 30 champions that range in kickboxing,boxing,karate,mix martial arts competion
4 time world kickboxing champion developed a record of 63 wins 1 loss 1 draw with 52 knockouts
3rd place in 1997 American international Kyokushin knockdown karate championships
2015 Grand Champion Kyokushin knockdown karate championships
3 time National Karate Champion
Professional boxing record of 8 wins 2 loss 4 kos
Developed the Mincey combat system
5th degree black belt in American Taekwondo under mike dillard
5th degree black belt in Kito Ryu Jujitsu under Ron Chandler
1rst degree black belt in Chuk Kune do under Chuck Norris
Inducted in the World Hall of Fame
Has trained under Nasser Navoroni (who tain Dennis Alexio heavy weight champion)
Has trained with Benny "The Jet" Urquidez (one of the pioneers of kickboxing)
Has trained under John Natividad (the giant killer)
Has trained under Bruno Rochel (boxing)
Has trained under Tony Georgiadias (1rst man to knock down superfoot Bill Wallace)
Has been on ESPN, ESPN2, HBO, HSE, LOCAL TV.
Has been in a role in Walker Texas Ranger
Has been in Black Belt Magazines, as well as model for Century Martials Arts